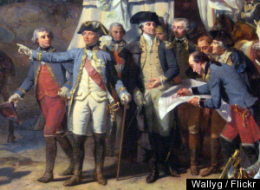 So, Republican revisionism finally makes the leap from Journalists to Historians as they successfully force their own far-right political views into text books. Other changes soon to come to an American History Textbook near you:
Supplemental Chapter: Tea Parties: Then and Now
Section listing requirement of US President's to be born on American soil includes the addition "Until recently..."
Economic history involving the dropping of the gold standard includes a half-page ad for Goldline featuring Glenn Beck.
America acquired from Indians legally at fair market values, a perfect example of unregulated capitalism.
All references to "Democratic Party" changed to "Democrat Party"
Racism no longer exists; successfully defeated by Republican in the late sixties.
Kennedy Presidency briefly mentioned as a "transitional period," remaining space dedicated to Ronald Reagan.
God mentioned at least once every two pages, listed among founding fathers.
Ayn Rand listed as Economic Expert in section on capitalism, Atlas Shrugged added to "Suggested Reading" list.
All references to "President Obama" changed to "President (?) "Barry" Barack Hussein Obama"
Read the Article at HuffingtonPost