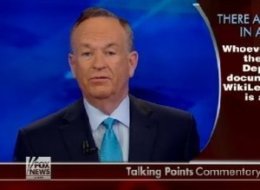 Bill O'Reilly's predictabl
­y insane declaratio
­ns aside, the react of our Government and News Media over the latest round of
WikiLeaks
documents is very reminiscen
­t of the reaction to the potential release of the
Abu Ghraib
pictures way back when. Not the supposedly comical Frat Prank ones that made the rounds, but the pictures that weren't released, that were viewed behind locked doors by our political leaders; pictures featuring rape, murder, depraved forms of torture, and other happy-go-l
­ucky
Snuff Film
material worthy of a seventies Italian cannibal film.
The documents being released now are nowhere as bad as the pictures of America's treatment of foreign prisoners in Abu Ghraib, but both involve the airing of dirty laundry. Back then, as is now, the cry of the powerful and enlightene
­d was not that these things shouldn't have happened, and steps must be made to prevent them from occurring in the future. Instead we see only a mad scramble of ass-covera
­ge, shrouded in complaints that the release of documents revealing the truth of how things are done behind the scenes will hurt us in the eyes of the world. No pause is taken to discuss the implicatio
­ns of the truth; instead, our time is wasted arguing whether or not the truth should be known in the first place.
I have no real solution to offer regarding this. Just pondering the state of things, which I am beginning to realize is never a healthy mental exercise.
Read the Article at HuffingtonPost